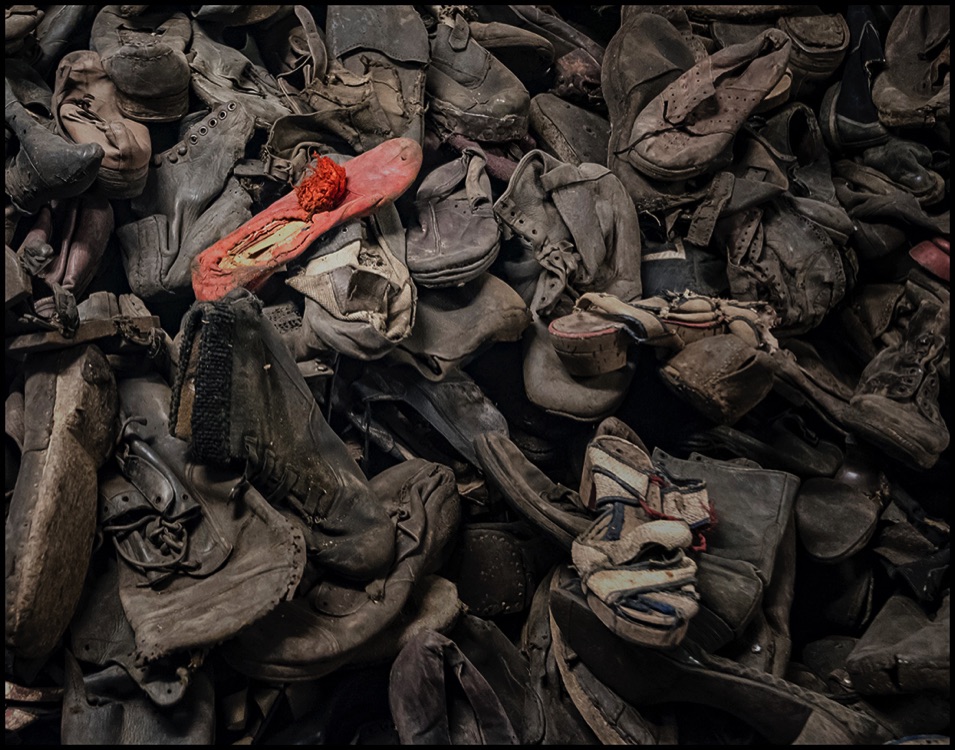 I'm often asked about what I feel is the most important photograph I've ever taken.
Whilst over the years I've been privileged to shoot many important images, there is one that stands out, in a category entirely of it's own. I will never forget my visit to Auschwitz and I will especially never forget the feelings I experienced after I shot this image. I have entitled it The Pink Slipper.
Imagining the owner of this slipper, a child probably, wearing her pink slippers until she was forced to strip naked minutes before entering the gas chamber, is simply heart-breaking. I also wonder about her life before The Holocaust - how pleased she was when she first wore them, and whether her parents bought them for her as a special gift. I imagine a little girl wearing her pink slippers, and a pink dressing gown, hugging a doll or teddy bear as she goes to her cosy bed, unaware of her family's impending fate.
In the image, the slipper is surrounded by dark, heavy, utilitarian shoes and by contrast, it is bright, colourful, playful, feminine and sweet. The surrounding darkness can be perceived as something sinister, encroaching on the slipper – an obvious, straightforward and bleak metaphor for The Holocaust.
Of course the viewer of this image may see it simply as a pile of old footwear, or as something far more significant, more troubling, more evil. Sometimes, photographs bear witness to events that are deeply uncomfortable to think about - they challenge the viewer to stare and not glance - and this, hopefully, is one such image.
If it's upsetting and it spoils your day, I'm sorry but that's exactly what it's meant to do - it's a photograph that is telling a terrible story that must never be forgotten - and that's why it is the most important photograph I've ever taken.
Technical considerations
Neither tripods or flash are allowed at Auschwitz and because of the low light levels inside the buildings, the photographer is faced with the choice of using a low ISO for quality reasons but risking camera shake due to a necessarily slow shutter speed; or of eliminating potential camera shake through a faster shutter speed but sacrificing optimal quality through the use of a high ISO; and there is a further issue too, in the choice of aperture setting, with a wider than desired aperture being used to minimise the previous two issues but in the process, compromising depth of field. In the end, I opted for ISO 6400 (higher than I'd have liked), f5.6 (wider than I'd have liked) and 1/10th second (slower than I'd have liked) – and just hoped that my judgement wouldn't let me down.
Sadly, I shot this image against the background noise and disrespectful behaviour of a large group of college students who on that day, treated Auschwitz like a theme park. They later clowned around taking selfies in the gas chamber – I won't say what nationality they were but suffice to say, they didn't represent their country with any kind of dignity or humanity.

www.neilatkinson.com
All images are Copyright Neil Atkinson 2020 unless otherwise stated. No copying or reproduction without written agreement.



If you find my work interesting, it would be great to be friends on social media.
Auschwitz: The Pink Slipper
The most important photograph I've ever taken.